Prejudice can be reduced when we recognize that we are all alike in many ways; When we learn about our differences; And when we accept our diversity. Please join us for this timely program.
Nisha Abdul Cader is a woman, a wife, a mother, a physician and an American Muslim living in San Luis Obispo.
Nisha will share her insights into her life, her faith and her views on equality and education for women.
When: Saturday, April 8th
Time: Doors Open at 2:15; Program begins at 2:30; ending at 4:00 PM
Where: Shepard Hall, Santa Maria City Library 421 South McClelland Street
, Santa Maria, CA
No Charge: Reservations requested
Pediatrician Nisha Abdul Cader, MD received the 2012 Hands On Hero Award for her dedication to the health and well-being of the youngest and most vulnerable residents of San Luis Obispo County. Dr. Cader is the medical director for the Suspected Abuse Response Team; the pediatric consultant for Martha's Place Children Assessment Center; and the supervising physician at the San Luis Obispo County Juvenile Service Center.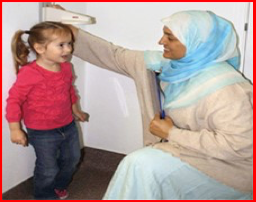 What a most interesting afternoon.  Our Board put together a list of questions and Lynda was our interviewer, as the audience sat listening closely to the clear, calm voice of Nisha Cader.  She provided greater clarity and understanding of the Muslim Faith, its tenets, how the Muslim Faith is practiced, what the fallacies are that many have heard and believe, and how Christianity, Judaism, and Muslim Faiths are similar and how they are different.  The audience participated in a  Question and Answer period, and all left chatting with one another about the discussion.  Quite Informative!