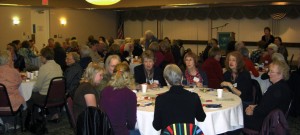 Our AAUW Santa Maria Branch was established in May, 1951.  We recently celebrated our 60th Anniversary.  We are one of 1,000 Branches throughout the nation, serving over 170,000 members and supporters.
AAUW's Mission:
AAUW advocates equity for women and girls through advocacy, education, philanthropy, and research.
AAUW's Value Promise:
By joining AAUW, you belong to a community that breaks through educational and economic barriers so that all women and girls have a fair chance.