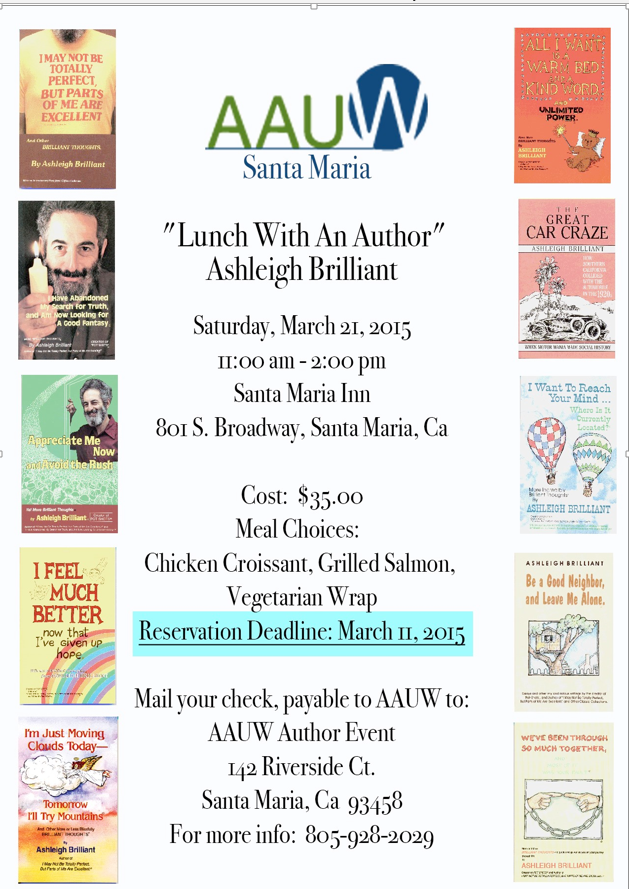 When: Saturday, March 21st, 11:00 a.m. Where: Historic Santa Maria Inn 801 S. Broadway, S.M.
Luncheon $35 per person
Reservation Deadline: March 11, 2015
Make your check payable to AAUW Santa Maria and send to AAUW Author Event, 142 Riverside Court, Santa Maria, CA 93458-9012.
Ashleigh Brilliant has been writing Pot-Shots, published daily in the Santa Barbara News-Press since 1967, has written and published several books, created postcards and posters of his work, has a website with his work, his bio, his books, and more information. At one time he was cited to be "the highest paid author, per word" by Readers Digest … interesting, since a Pot-Shot can be no more than 17 words long! He's a most interesting man (yes, I met him a couple of years ago) and we are giving him the whole time, to share his story with us, help inspire us, and bring some laughter, thru social relevance, to our otherwise very distressed world. I have given you the link to his website, and another link to the Wikipedia page, just FYI. He has been doing social media since before it was "invented"! Many are familiar with his Pot-Shots, they have become common sayings in our everyday lives. You may recognize them in the titles of his books. There are so many … and it's interesting how one can say so much with so few words!!
Ashleigh Brilliant is our special guest this year. He is an Internationally Renowned Author and Creator of PotShots (r)(c), with many writings to his credit. I have attached a link to his Bio, for those who are interested. He is a writer, college professor, speaker, motivator, and so much more. Pot Shots have been published in the Santa Barbara News Press since 1967. There are very special requirements for these Pot Shots and we find them being used everyday in our conversations and in social media. You will recognize many of them. I understand that Ashleigh is a Brilliant Speaker (from those who've seen him), and we will have much more time for interacting, asking questions, learning about how our language has evolved with Pot Shots. This will be an enjoyable day, and we look forward to your being with us. Please share this with your membership, co-workers, fellow volunteers, and anyone you know who may be interested in coming. An open event, we would love to welcome anyone, men and women, to join us!!
SM Times Section A, there is this press release written by our member, Laura Selken promoting our upcoming luncheon event.
Author's Luncheon to feature Brilliant work
The Santa Maria Branch of the American Association of University Women (AAUW) will host its annual Author's Luncheon at the Santa Maria Inn on March 21.
Ashleigh Brilliant, internationally renowned Santa Barbara writer and creator of Pot-Shots, will be the featured guest. The event begins at 11 a.m.
As an English teacher and history professor, speaker, columnist, motivator and longtime writer and cartoonist, Brilliant has touched the lives of many. He's probably best known for his Pot-Shots, which have been published in the Santa Barbara News-Press since 1967, and throughout the United States since 1975, a spokeswoman said.
As defined on his website, www.ashleighbrilliant.com, Pot-Shots are "epigrams, composed according to … very strict rules." Some of the basics include a 17 English word maximum and no use of "rhyme or rhythm, idioms, puns, or other wordplay."
Brilliant also admonishes the use of cultural references so that his Pot-Shots will be universally understood. They must be completely original and "as different as possible from every other one," the spokeswoman said.
Brilliant will be selling and signing books after his multifaceted presentation.
Cost to attend is $35 per person. Reservations must be received by Wednesday and can be made by calling 928-2029. Indicate a meal choice of chicken croissant, grilled salmon or vegetarian wrap.
The Santa Maria Inn is at 801 South Broadway.
AAUW advances equity for women and girls through advocacy, education, philanthropy and research.
Ladies,
I have "booked" Ashleigh Brilliant for our "afternoon with an author" in March … he is 80 y/o, and has been doing "Pot-Shots" since 1967. Below is a link to a Wall Street Journal article about him, the info at Wikipedia, and his personal business page. There are samples of Pot Shots on his site. There's also a listing of his books … on both sites. I have met him, and he's quite interesting. I also attached a Pot-Shot and the list of "requirements" to create a Pot-Shot. Personally, I feel he's been doing "Twitter" Social Media comments long before there was even a Twitter!!
Hope you enjoy!!
Jeni
https://www.ashleighbrilliant.com/WSJ.htm
http://en.wikipedia.org/wiki/Ashleigh_Brilliant
https://www.ashleighbrilliant.com/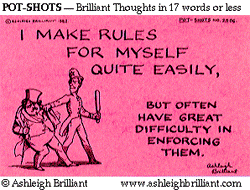 WHAT EXACTLY IS A "POT-SHOT" OR "BRILLIANT THOUGHT?"
Pot-Shots are epigrams, composed according to the following very strict rules.
The length must never exceed 17 English words. Note that this is a maximum. Some Pot-Shots are much shorter. Hyphenated words count as a single word.
Pot-Shots must be easy to translate into other languages. Therefore there can be no use of rhyme or rhythm, idioms, puns, or other word-play.
Pot-Shots should be capable of being appreciated in all times and cultures. Topical and cultural references must be avoided.
Every Pot-Shot should be as different as possible from every other one.
Every Pot-Shot must be totally original, and unlike anything else the author, or anyone else, has ever said before.
The words of a Pot-Shot must be able to stand on their own, and not require any illustration in order to be understood or appreciated.
Whatever is being said should be worth saying, and said in the best possible way.
NOTE: These are ideal standards, and I myself have failed to meet some of them occasionally — but in general I have adhered to them quite scrupulously.