Join us for an informative presentation of current treatments for breast cancer performed at our state-of-the-art Mission Hope Breast Center by Dr. Monica Rocco. Her philosophy is: "Comprehensive, compassionate care".
When: Thursday, March 3rd, 6-8pm
Where: Cornerstone Community Room 706 So. McClelland
(part of the Discovery Museum and adjacent To the Community Cornerstone Building)
Desert and Beverages: Cost $8.00
Reservations please by March 1st
Monica Rocco, M.D., a leading board certified general surgeon with over 20 years of experience, dedicates her practice of medicine to providing hope to those with breast disease and facing a breast cancer diagnosis. Due to her passion for caring, she is the founding physician of the Marian Breast Care Program. She offers a full range of surgical options to her patients in a sensitive, caring and reassuring manner, as well as genetic screening and testing. Dr. Rocco works closely with the Nurse Navigator and Reconstructive Surgeon in order to achieve the best outcomes for patients in regards to their breast disease and cosmetics. She has recently been named one of the US News and World Report Top Doctors of 2012. (Mission Hope Cancer Center website)
Dr. Rocco shared information about the new breast imaging techniques performed as part of the mammography screening program at the Mission Hope Cancer Center. She discussed basic mammography, digital mammography, and the new Digital Breast Tomosynthesis.
DIGITAL BREAST TOMOSYNTHESIS
Breast tomosynthesis is a breakthrough in mammography that provides a clearer, more accurate view compared to digital mammography alone.
Conventional digital mammography produces one image of overlapping tissue, making it difficult to detect cancers. Performed with digital mammography using the same scanner, breast tomosynthesis takes multiple images of the entire breast. It allows our specialized breast radiologists to see through layers of tissue and examine areas of concern from all angles. Benefits can include: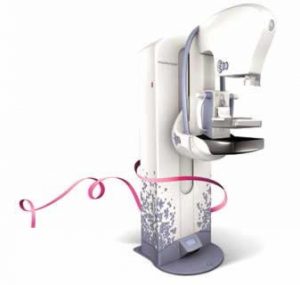 Earlier detection of small breast cancers that may be hidden during digital mammography
 Greater accuracy in pinpointing size, shape and location of abnormalities
 Fewer unnecessary biopsies or additional tests
 Greater likelihood of detecting multiple breast tumors, which occur in 15% of breast cancer patients
 Clearer images of dense breast tissue
 Improved breast cancer detection rates, especially invasive cancers
 A decrease in call backs, which may lessen anxiety for patients
Emphasis on Safety: 
Ensuring patient safety is our top priority. We pay special attention to minimizing radiation exposure while producing the highest quality image to answer the clinical question. As part of this commitment, we invest in the latest equipment to ensure that our fleet of scanners consistently delivers the lowest dose of radiation possible during an exam. (from the Mission Hope Cancer Center Website)
Liz Elliott, RN, OCN, CBCN, CBPN-IC
Breast Care Navigator, MCC
Liz Elliott, RN, OCN who has more than 20 years experience as a cancer nurse and was recently recognized by Enhancement, Inc. for her outstanding service to the Central Coast breast cancer community, is a specially trained Breast Cancer nurse. Liz serves as an educator, advocate and guide for every breast cancer patient of Mission Hope Cancer Center as well as their families. She will serve as a liaison between you, your doctors, and your family, knowing first hand that your well being and peace of mind are as important as your treatment.
Breast cancer can be frightening. But with the Marian Breast Care Program at Mission Hope Cancer Center, you're not alone. The Breast Care Program's Nurse Navigator guides you through the course of treating breast cancer, from prevention to post-treatment. Patients receive crucial, individual education and support by an experienced cancer nurse from the time of biopsy throughout the course of treatment. Also, services are offered in counseling, genetic testing, nutritional support, exercise and prevention and management of lymphedema. (from the Mission Hope Cancer Center Website)
Both Dr. Rocco and Ms. Elliott gave an interesting, informative, and hopeful presentation. One can feel the passion they have for the work they do. Members had an opportunity to ask questions, and to visit individually with each lady at the closing … they were quite generous with their time … and it was greatly appreciated.