Join us to view the history-making advances that women have made in the 'field of the future' and hear about what is going on just down the road at Vandenberg.
The fascinating documentary "Women in Space" will be followed with a presentation by Capt. Crystal Knoblock of AF Space Command at Vandenberg with a Q&A to follow.
WHEN: Sat. 25 April @ 2-4 p.m.
WHERE: Shepard Hall, Santa Maria Library, 400 S. McClelland, S.M.
COST: $15. There will be light refreshments.
RESERVATIONS: please contact Claire at 937-0490 or ccm93455@yahoo.com.
Please call Claire by Monday, April 21st for your reservation.
Please invite any young ladies interested in the STEM programs, whether in high-school or college to be our guests, at no charge–simply give Claire Magee their names about a week prior to the event.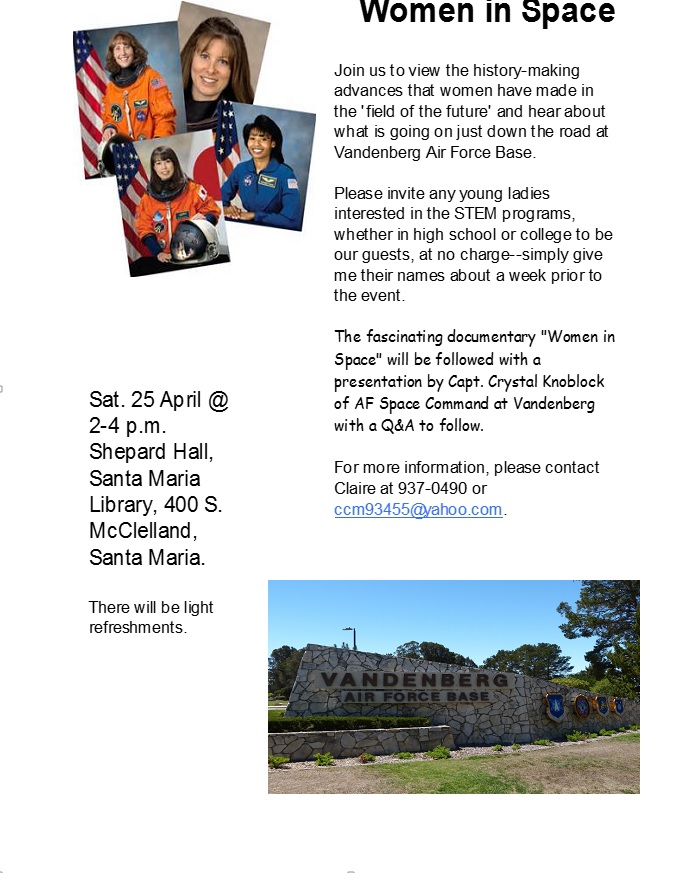 Thank you Anne. Having worked for NASA, as an employee of Science Applications International Corporation, I worked for many years in the Space Shuttle Program-met many astronauts and while in training as a program analyst there my duties required me to go into the space shuttle vehicle (Columbia and Atlantis being the last vehicles I entered) to oversee the work of contractors to NASA during the major modifications of the fleet during their major modifications at the Palmdale plant 42 Air Force facility. So this topic is one that is of particular interest to me (your meeting on the 25th). I work at the library, I have many photos of astronauts which they autographed for me as well as photos of me with our whole mission assurance Quality Assurance crew (I was the only woman on our crew), even one or two photos of me inside a space shuttle-I keep at my desk there at the library. As I said, very near to my heart is your topic in April.
My daughter is a Thermal Engineer for NASA/ JPL in Pasadena. You can bet if I can possibly make it I will be at the meeting.
Looking forward to meeting everyone.
Joyce Fischer