Where We've Been
Where We Are Now
Where We're Going
When: Thursday, October 9th, 7-9 pm
Where: Activity Theatre at Merrill Gardens 1220 Suey Road, Building A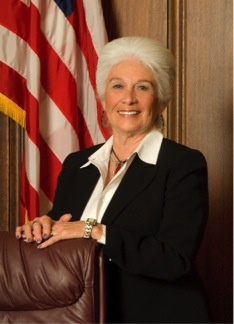 Our female Santa Maria mayor, Alice Patino, shared information on her background and the process of her becoming a leader in our community as well as what's going on in the city and some future plans for the city. AAUW promotes leadership training and development, and supports women participating in leadership positions.
Alice Patino has decades of service to Santa Maria. She began her career as a teacher, then a board member in the public school system, and holds various leadership positions with the City of Santa Maria. She grew up in Santa Maria and attended Allan Hancock College. She has served on the City Council since 1999 and was re-elected mostly recently in 2010. In November 2012, she was elected as Mayor, becoming the first female Mayor in Santa Maria's history.
Her community service activities are numerous. She has served in the Rotary Club of Santa Maria, the Minerva Club, Santa Maria Valley Chamber of Commerce, Santa Maria Valley Republicans and other groups such as Fighting Back Santa Maria Valley.
Mrs. Patino was a teacher from 1972 to 1982 with the Santa Maria/Bonita School District. Starting in 1976, she served until 1991 on the Santa Maria Joint Union High School Board. The major issue was to find cost-effective ways of enlarging the existing school campuses and identifying new properties for building new schools.
From 1994 to 2002 she was a member of the Marian Medical Foundation and as Board president, together with an excellent team of Board members, raised nearly $1 million for critically needed programs.
She served as a Code Compliance Board Member for the City from 1997 to 1999 and was appointed to the City Council in 2000. A top priority is addressing neighborhood concerns and law enforcement. From 1998 to 2009, she was the Administrative Assistant/Field Representative for Fourth District County Supervisor Joni Gray.
Alice has been married to John Patino for more than 45 years and they have two children.
REGIONAL COMMITTEES:
Air Pollution Control District Board Member
Santa Barbara County Association of Governments Representative
County Housing Advisory Committee
EDUCATION & EMPLOYMENT:
Attended Allan Hancock College
Attended California State University, San Jose
COMMUNITY INVOLVEMENT:
Board of Trustees – Santa Maria Joint Union High School District (1976-1990)
Human Relations Commission for Santa Barbara County (1996-1998)
Past President/Member of Marian Medical Center Foundation Board (1994-2002)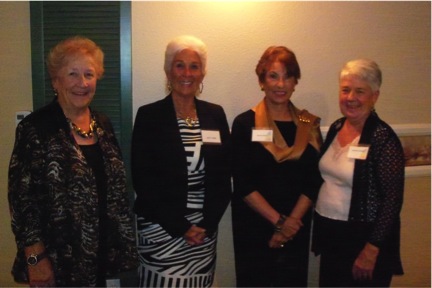 Marion, Mayor Alice Patino, Martha, and Barbara at our October Meeting.